NDC staff and members center the community and lift up pressing housing needs throughout the transition process for Mayor Mike Johnston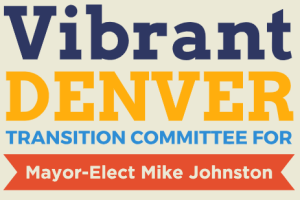 After 12 years of Denver rising to become the most gentrified city in the country, we have a new Mayor – Mike Johnston. During his campaign, Mayor Johnston stated that he believed there was "a moral obligation to house everyone in Denver" and right after his inauguration, he issued an Emergency Declaration to Address Homelessness – the first of its kind. With homelessness up 32% in metro-Denver, and first-time homelessness up 90% since 2020, NDC supports this declaration. Key elements of the plan include leveraging funding and resources through collaboration at the local, regional, state and federal levels, and coordinating and convening system-wide efforts to improve supportive housing options, among other coordinated strategies.
To aid in his transition, the Mayor recruited over 600 Denver leaders and residents, representing a broad swath of diverse perspectives from the private and public sectors, who served on 28 issue- or agency-specific transition committees that offered robust feedback and ideas for Mayor Johnston's administration to "get to work" on after he took office. Many NDC members and partners were selected to lead or participate on those committees, including NDC's Executive Director, Jonathan Cappelli, who along with Kevin Marchman of the National Organization of African Americans in Housing (NOAAH) co-chaired the HOST Housing Committee. Each committee worked to review their assigned city department or issue, gather community input and feedback, and produce a series of key recommendations that will inform the Mayor's strategies in his forthcoming plans.
Through the transition process, NDC, its members, and community partners amplified the voice of Denverites, and civic, social justice and community-based organizations to help ensure, as Mayor Johnston promised, "that this is a city that hears everyone, that represents everybody and that includes everybody."  Areas of feedback that NDC and its members covered included the speed at which affordable housing get's permitting approval, the need for flexible funding for small community-based housing organizations, the larger need for funding and land for housing, and ways to ensure anti-displacement is central in the City's new housing strategies. NDC and its members will continue to provide feedback to the administration as it gets going on its housing priorities – so there are sure to be updates in future Dispatch newsletters.
For more information detailing the challenges of and opportunities for addressing homelessness, please see NDC member Colorado Coalition for the Homeless's (CCH) comprehensive Colorado Affordable Housing Crisis Report.