Walden35 Groundbreaking Event a Success
On August 17, 2022, we celebrated the groundbreaking of Walden35. AHA's Executive Director, Craig A. Maraschky, along with Housing Developer, Sarah Vogl, introduced special guests Governor Jared Polis, Aurora Mayor Mike Coffman, Councilmember Steve Sundberg, William Pauls, PaulsCorp, and Steve Johnson, CHFA.
Walden35 will sit on three acres of land in northeast Aurora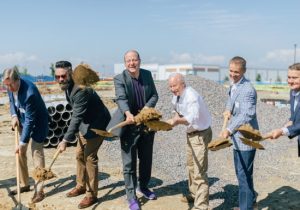 Colorado; twelve miles southwest of Denver International Airport. Walden35's residents will enjoy easy access to transportation, employment and services.
Amenities include on-site property management, modern fitness facility, vibrant community room, in-unit washers and dryers, an outdoor play space, resident gardens, a dog run/dog wash, secure bicycle storage and secure package lockers.
Walden35 will utilize the Income Average set-aside program that includes apartments for households earning between 30% to 70% of the Area Median Income (AMI).
View the photo gallery here: Walden35 Groundbreaking Gallery
Press: CBS Colorado, Telemundo
UNIT DISTRIBUTION
40 One Bedroom Units
50 Two Bedroom Units
10 Three Bedroom Units
USES OF FUNDS
Land $1,600,000
Site Work $2,392,405
Construction $25,941,158
Professional Fees $735,000
Construction Interim Costs $878,558
Permanent/Syndication $286,400
Soft Costs $820,620
Developer/Consultants $3,412,000
Project Reserves $660,000
TOTAL: $36,726,761
Current Initiatives State Measures Prop 121 - Income Tax Rate ReductionNOBallot Measure: Reduction of the state income tax rate for individuals and corporations from 4.55% to 4.40%Rationale: With current budget forecasts, for the next few years this change would...
read more
Neighborhood Development Collaborative stands in favor of Proposition 123.  We've joined a growing coalition of 225+ organizations and local community leaders supporting this measure, which is on statewide ballots on November 8, 2022.  We believe voting yes on...
read more